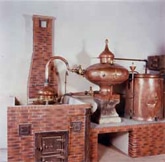 Vous souhaitez en savoir plus ?
Saint Aulaye, formerly located in a wine-growing area, offers you a discovery of the Wine, Cognac and Pineau Museum . Located in a former agricultural building, this eco-museum allows you to discover the process of making cognac by wandering between the press and the still dating from the 18th century to end up in the cellar, where the precious blends are stored. Thus, you perceive the complexity of the work of " cellar master " also called distiller . You can also taste this precious beverage*…
Open from July to September on weekends, the tour of this museum ends with a tasting of Pineau and Cognac.
For more information, visit the municipality's website .
* Alcohol abuse is dangerous for your health, consume in moderation
PRICES: Adults: €2.30/ Group from 10 people: €1.50/ Child under 15 years old: €0.75/Child group under 15 years old: €0.50